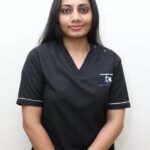 Dr Madhuri Nagaraj is a pediatric dentist who has completed her bachelors from VS Dental college & Hospital and masters in Pediatric and Preventive Dentistry from M S Ramaiah Dental College. 
She is skilled in pediatric endodontics, preventive and interceptive orthodontics , special care dentistry and complete oral rehabilitation under general anaesthesia. She practices preventive & minimally invasive procedures and believes that every child has the right to a beautiful smile.
Branch: Rainbow children's Hospital, Bannerghata branch
All Dental Clinic staffing members are certified experts. Our staff members are comprised of general dentists licensed.